Rev. Kris Alexander
Senior Minister
[email protected]
703-560-2030
Book An Appointment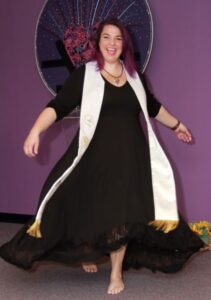 Rev. Kris is a rEVOLutionary possibilitarian, social artist, spiritual badass, global transformationist and truth-teller. She loves to explore the lines between the mystical and the mundane, the sacred and the profane. She has an inherent gift of holding paradoxes and seeing life from many angles. She is committed to always telling the truth in love and is willing to have the challenging conversations that are necessary for individual and collective growth. She believes that all people deserve freedom, love, respect, equality, safety, and happiness, and she strives to live by these values in all that she does.
Rev. Kris has been a spiritual seeker her whole life. She grew up a fundamental Christian, and was often "that child" in Sunday School asking questions like "How can heaven be perfect if not all my friends go there?" For as long as she can remember she has had unexplainable mystical experiences that supported her in never losing her Faith, even as her beliefs shifted. She discovered New Thought at the age of 19, through late night conversations with friends and a thirst for knowledge that took her deeply into esoteric research. This study eventually led her to Unity of Houston, where she was surprised to find a community of individuals who believed the same way she did, despite most of her beliefs being a (what she thought was made-up) amalgamation of her research. She would ask her spiritual teacher, Rev. Michael Gott, "Teach me to pray like you do". Little did she know that he was actually praying Spiritual Mind Treatments, the style of affirmative prayer used in Science of Mind.
In 2012, Rev. Kris moved home to Asheville, NC and began attending Center for Spiritual Living Asheville because Rev. Michael told her that Rev. Drs John and Barbara Waterhouse would teach her to pray like he did. She was hooked from the first Sunday. She began attending all of the classes, services, and meetings that she could. She fell in love with the teachings of Ernest Holmes and knew that this place was home. She joined the leadership team for the NextGEN Retreat in 2015 and it was at that retreat that she knew she wanted to be a minister. This became her single-minded focus from then on. Rev. Kris licensed as a Science of Mind Practitioner through CSL Asheville in 2017 and moved to Napa, CA to pursue ministerial school in 2018. She completed the 2 year ministerial program and graduated in 2020. She licensed as a CSL Minister, moved to Northern Virginia, and accepted the pulpit at Celebration Center for Spiritual Living within a week in January 2021.