Power of Eight Healing Circle & Book Study
Join Jenn Fay, RScP for a book study and intentional healing circle on Wednesdays, December 15th-February 2nd from 7:00-9:00 pm (book study from 7:00-8:00 pm and healing circle from 8:15-9:00 pm). Based on the book "The Power of Eight" by Lynne Mctaggart. A love offering will be taken each week.
Contact Jenn at [email protected] for more info.
Click here to register
Spiritual Principles and Practices
A 5 week course on the Foundational Principles of Science of Mind and Spirit
Registration Link: https://forms.gle/cCxRowBaaw38g92s7
Next course for 2022 will be announced soon
6:30-8:30PM ET
Virtually on Zoom.
Cost: $170. Scholarships available.
Required Text: This Thing Called You by Ernest Holmes
All are welcome.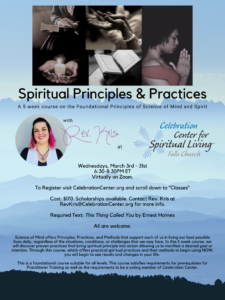 Professional Courses
Are you curious about the requirements to become a Licensed Practitioner of Religious Science (aka, Licensed Practitioner of Science of Mind)?
If you are feeling a Divine nudge to higher service, it may be the call to become a licensed Practitioner of Religious Science. After meeting the prerequisites which include at least 7 basic and advanced classes from specific areas of study, you will enter a two-year program of professional studies.  The first year is open to anyone wanting to investigate the possibility of being a practitioner and to engage in depth in Science of Mind. The second year of the program is by invitation based on the dedication demonstrated and commitment.  Please make an appointment with Duke Height to learn more about the program and how it will serve you.