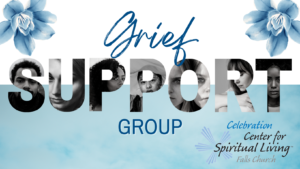 Wednesdays, November 23rd – December 28th
6:30-8:00pm ET
Zoom & Height Hall
Are you experiencing acute grief due to losing a loved one, pet, job, relationship, health, home, or other experience?
Do you struggle with grief through the holidays?
Are you beginning to experience the effects of the "Winter Blues"
Do you have unprocessed grief or loss from your past that you would like to address from a spiritual perspective?
The purpose of this program is to bring a Spiritual understanding to the process of a very human experience: grief. It is designed to highlight and support the unique challenges experienced in the face of loss and grief. It is not meant to be prescriptive in that it offers a specific way to navigate loss and grief but instead is fluid and experiential. It is a call to reflection, expansion, and transformation, not just in the context of loss but in life itself. It highlights the benefits of both our internal work and the healing balm of the community. It is an ever-changing, ever-unfolding, and ever-revealing journey that we are already that which we are seeking.
It is broken into two 6-week circles, Coping with Grief and Emerging from Grief. This Circle is designed to be progressive and supportive of the members. For this reason, we ask that you commit to completing Part 1, understanding that you will have the choice to move forward before we begin Part 2 in the New Year.